Barely clothed women cover ski advertisements. But looking through a collection of old marketing materials, this ad for the Catskills from the early 1950s caught my eye. My first thought: "her butt must be so frostbitten." In it, the woman sat almost entirely naked. Decked out in high heels, white gloves, and a suggestive fur coat, she perched herself on the edge of a snow bench. Sitting there, pants-less and shirtless, I can only assume she suffered from severe frostbite and hypothermia. But barely clothed women coat ski advertisements. So why did this one catch my eye?
Rather than other images that show lots of skin and offer innuendo, this specifically depicted a woman smiling while "bravely" suffering through the pain of severe cold. The role of snow, ice, and mountains distinguished the ad from examples like the Lang Girls and countless other pictures and advertisements where women mostly just show skin. In this case, it felt more familiar to the photo shoot of Kate Upton in Antarctica, where at least half the sex appeal seems to be Upton's dedication to extreme and dangerous discomfort for men's pleasure. (Thank you to historian Daniella McCahey for bringing the Upton photo shoot to my attention.) As I've pondered this image over the past month, I think the difference between this poster and many other ski imagery points to the importance of warmth in ski advertising; the exotic combination of unique environments, people's bodies, and the contrast of "fire and ice;" and finally, the capacity for a woman to look at an image and think "parts of that look appealing," even if they rarely women would rarely think "all of that looks nice."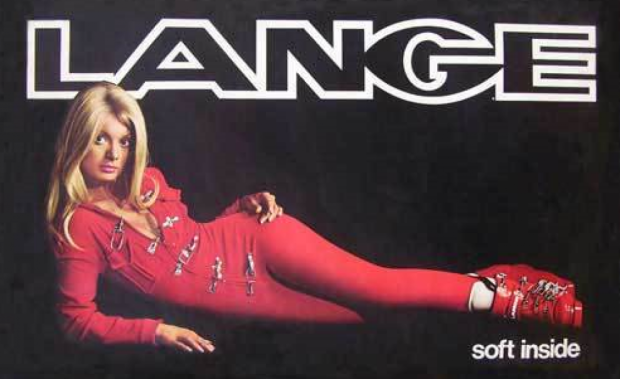 Marketers linked sex and skiing from the very beginning. In 1936, Steve Hannagan believed the brand-new Sun Valley resort needed to be advertised "with unusual pictures showing the visual climate of Idaho which suggests sunbathing in three-cornered uncovered ice houses, skiing in shirts tied at the waist, [and] bathing in natural hot water pools in the open." He followed through. The resort's first image showed a young man, his shirt stripped off as he wiped sweat from his hair.
Historians love writing about the provocative beginning to ski marketing. For example, in his foundational history of tourism in the West, Hal Rothman wrote that Hannigan "bombarded Americans with the image of a young man, muscular, handsome, and stripped to the waist, skiing through the powdery snow of Sun Valley." Building on Rothman's work, in her book Ski Style, historian Annie Coleman wrote about how the "opportunity to display fashionable bodies" at ski resorts "highlighted women's traditional roles as… sexual objects." Meanwhile, "the dating and après-ski sociability… expanded the meanings connected to Alpine skiing" while creating opportunities to appreciate skiers' bodies. Hannigan's ads tapped into something more, however. They highlighted the exotic pleasures of a seemingly impossible natural experience. A place should be hot or cold, so when skiing in the West still remained unknown to most of the world, skiers wondered, what would it be like to experience both at the same time.
Within the humanities, a field called queer ecology has driven scholars to examine the relationship between physical pleasure in human-environmental relationships. So, what might we discover by attending to the pleasure (or displeasure) that these advertisements depict? I think by focusing on the pleasure of exotic weather that was largely impossible in developed urban centers, we find an intriguing link between skiing and sex, which also links people to mountains, snow, ice, and sun. At least this was true for visual media that (unlike the Catskills advertisement) avoided promising complete domination of mountains and women.
Skiing constantly reinforced heteronormativity. But the relationship between temperature, snow, and semi-nude bodies tied the desire and pleasure of skiing, the bodily pleasures of sex, and the physical experience of temperature together into an exotic physical experience, impossible in urban areas with more stringent social expectations. This is not to say that skiing, or these posters, constitute a queer act. (Suggesting this "queers" skiing is going too far.) Nevertheless, the Sun Valley ad and the Concord ad (which I wrote more about in "Summer Sun and Winter Fun") suggest that "the hedonistic desires of both men and women" have played a central role in ski culture, even if power largely resided in the hands of men.
The exoticism of bodies that were both hot and cold became a key way that skiers found pleasure in mountains, wind, and snow. The draw of ads like the shirtless man and the bikini-clad women did not simply sell sex, they reflected a specific physical addiction that severed as a foundational pursuit in the history of skiing. Cold skin, warm sun, sweating bodies, adrenalin from descending – these were not just signifiers. These interplays promised new types of pleasure that were (at least in theory) impossible in other settings. For example, while men wanted to be the Sun Valley model, women also wanted him. Meanwhile, the Concord ad offered both men and women the promise of athletic and mostly naked bodies in exotic spaces. In the process, skiing passively challenged sexual norms through the vital role of specific environments in the pursuit of sexual pleasure. These images offered an acceptable space for this type of playful encounter for both men and women.
These photographs from a 1948 issue of Life, offer a non-advertisement example of the theme of "fire and ice." In both images, the caption highlighted the relationship between cold temperatures and feeling warm. In the first, Anna von Hoomissen was described as eagerly descending into the ski hut, looking to warm up. If she were truly so cold, rolling her sleeves down or wearing a hat would have been a good first step. Regardless, the image offered more than a woman as "eye candy." Von Hoomissen was not passive, she walked toward the viewer. The photographer promised a visceral feeling for male readers by wrapping their arms around a cold girl (the pigtails depict von Hoomissen as precariously child-like) and warming her – once again, contrasting hot and cold. Furthermore, while the power dynamic is uneven, women likely found parts of the concept attractive. Many people associate the concept of pressing bodies together next to a warm fire appealing, especially around new or old friends. Studies out of Germany and Poland even suggest that these physical experiences are capable of lifting moods and combatting common winter experiences like seasonal depression. That said, many reflected a one-sided pleasure that, while exotic, still relied on women's bodies as passive objects of men's desire.
The second picture, for example, promised little physical pleasure. With the women posing and looking off to the side, the photo offers little hint at what they would do next. In other words, while the image of Hoomissen, the Concord ad, and the Sun Valley ad all offer components of motion that link the viewer to the model, these two are depicted as directionless, with no active role. As a result, while the heat of the sun and the "twenty-eight-degree" weather contrasted in an exotic and potentially enticing promise, the image suggested that for men skiing was a voyeuristic experience. The role of pleasure and transgression specific to the mountains disappears in favor of a far more common experience of men leering. That said, the women do not seem particularly cold. In fact, the photographer highlighted beach-like activities on the mountain.
So, with all of this, what do we make of the Catskills ad? The woman in the advertisement is not completely static. Rather, she seems to lean forward, inviting the viewer to step toward her. Her enticement almost suggests that she is a femme fatale. The artist also suggested a different outcome than other images. While the advertisements and von Hoomissen promised the prospect of mutual (if uneven) pleasure in an exotic place, the Catskills image suggested little contrast. Nothing suggests warmth in the image. Even the color scheme is crisp blue and white. The result was an image, that along with the word "MASTER" at the top, suggested something closer to domination. The point stopped offering sexual transgression, closely linked to environmental processes, and rather highlighted the control of a woman who happily suffered through discomfort for the watcher's enjoyment. (A type of "normal" transgression.)
Parts of this history offer potential ways forward, while others demonstrate the violent aspects of skiing's sexual history. There might very well be something redeemable in the motif of skiing, temperature, and bodily pleasure. The specific role of Alpine environments highlights a relationship too rarely associated with desire. At the same time, building these desires into a culture of consent would prove difficult in a place already obsessed with domination (whether it be mountains or women). As the Catskills poster demonstrates, the process can easily slide into narratives and promises of physical control. Nevertheless, embracing these pleasures could, and should, prove valuable in tying people to at-risk environments and increasingly suspect weather in the face of climate change.